The Ale Seller.com Castleford: Your Local beer & wine store
A vast range of beer, Lager, Cider and wine for sale from all over the world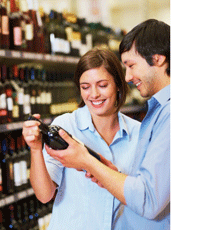 We are one of the largest sellers of discounted
beer, cider, lager
and
wine
in the north of England
We use our buying power to obtain vast stocks of beer, lager and wine from our suppliers at incredible prices which we are then able to offer to the public
Some of our stock items are close to sell by dates or wines may be from last year, however none of this makes any difference to your ultimate enjoyment.
The Ale Seller is a fast turnaround high volume beer, lager, cider and wine retailer and distributor, we sell by the bottle, case or even by the pallet, should you require larger orders, simply call, we can deliver up to 40 foot containers of mixed products
We con not guarantee to have a particular wine in stock all year round, we do update our beer, lager and wine for sale on our website frequently, but when it's gone it's gone!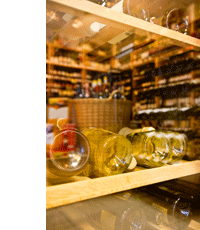 Beer and Lager for sale from major brand names i.e. Guinness, Caffreys, Boddingtons, Courage, John Smiths, Scottish & Newcastle, Ruddles, Tennants, Tetleys, Theakstones, Budweiser, Becks, Carling, Carlesberg, Fosters, Grolsh, Heineken, Kronenbourg, Stella Artois, Oranjeboom and Skol.
Cider for sale from major brand names i.e. Blackthorn, Bulmers, Magners, Kopparberg, Scrumpy Jack, Strongbow and Woodpecker.
Wine for sale from major brand names i.e. Barefoot, Black Tower, Blossom Hill, Blue Nun, Casillero del Diablo, Echo Falls, Ernest & Julio Gallo, Hardy's, Jacob's Creek, JP Chenet, Kumala, Lindemans, Oxford Landing, Rosemount, Stowells and Wolf Blass.
We specialise in the retail sale and distribution of beer, lager, cider and wine.
SAINT EMILION.
-ORIGINAL SIX BOTTLE WOODEN CASE
-58.00 inc vat for 6/75cl That's Under 10.00 a bottle
This should be at least DOUBLE the price.
200 cases only.
Chateau Grand Bersan Lussac Saint-Emilion 2011 six bottle OWC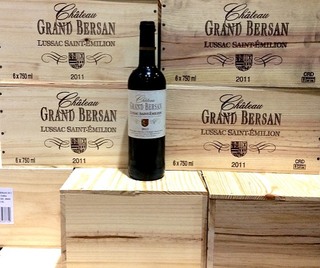 TASTING NOTES
This is a superb and very vibrant typically coloured Bordeaux wine. Some nice earthy soft Merlot fruit on the nose. Decent St Emilion in the palate with soft fruit, minerality, acid and balance. Still some tannins and a dry long finish making a very typical Lussac St Emilion. . Such good value for a St Emilion. Cork-Barcoded 13%
Lussac-Saint-Émilion is an Appellation d'origine contrôlée (AOC) for red wine situated in the Bordeaux wine region. The appellation is located on the right bank of the Garonne and Dordogne rivers, about 45 kilometres (28 mi) from city of Bordeaux or 9 kilometres (5.6 mi) from the medieval village of Saint-Émilion. It is one of the so-called "Saint-Émilion satellites" situated around the appellation Saint-Émilion AOC itself.
Château Grand Bersan is managed by the Duvergnon family for several generations. This family is working in the vine-growing for a long time as writings can testify. The first of them dates back 1686, talking about Guillaume Duvergnon, ploughman in the village of Laplagne. The place known as "La Plagne" is still sheltering the property today. The vineyard of Château Grand Bersan is located in the East of the commune of Lussac, 8 kilometres North-East of Saint-Emilion , on the right bank of the Dordogne River. Since the mid-90's, it is Estelle Duvergnon, after her father, who manages the property and the wine-making with success
VINEYARD
Soil: Chalky-clay hills.
Surface: 9 hectares
Average age of the vineyard: 30 years
Grape varieties: 10% Cabernet Sauvignon / 90% Merlot
VINIFICATION
Mechanical harvesting. Classical vinification in thermo-regulated concrete
vats. Daily pumping over. Ageing in stainless steel vats.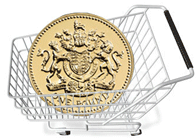 Website built by Web Shop Designs